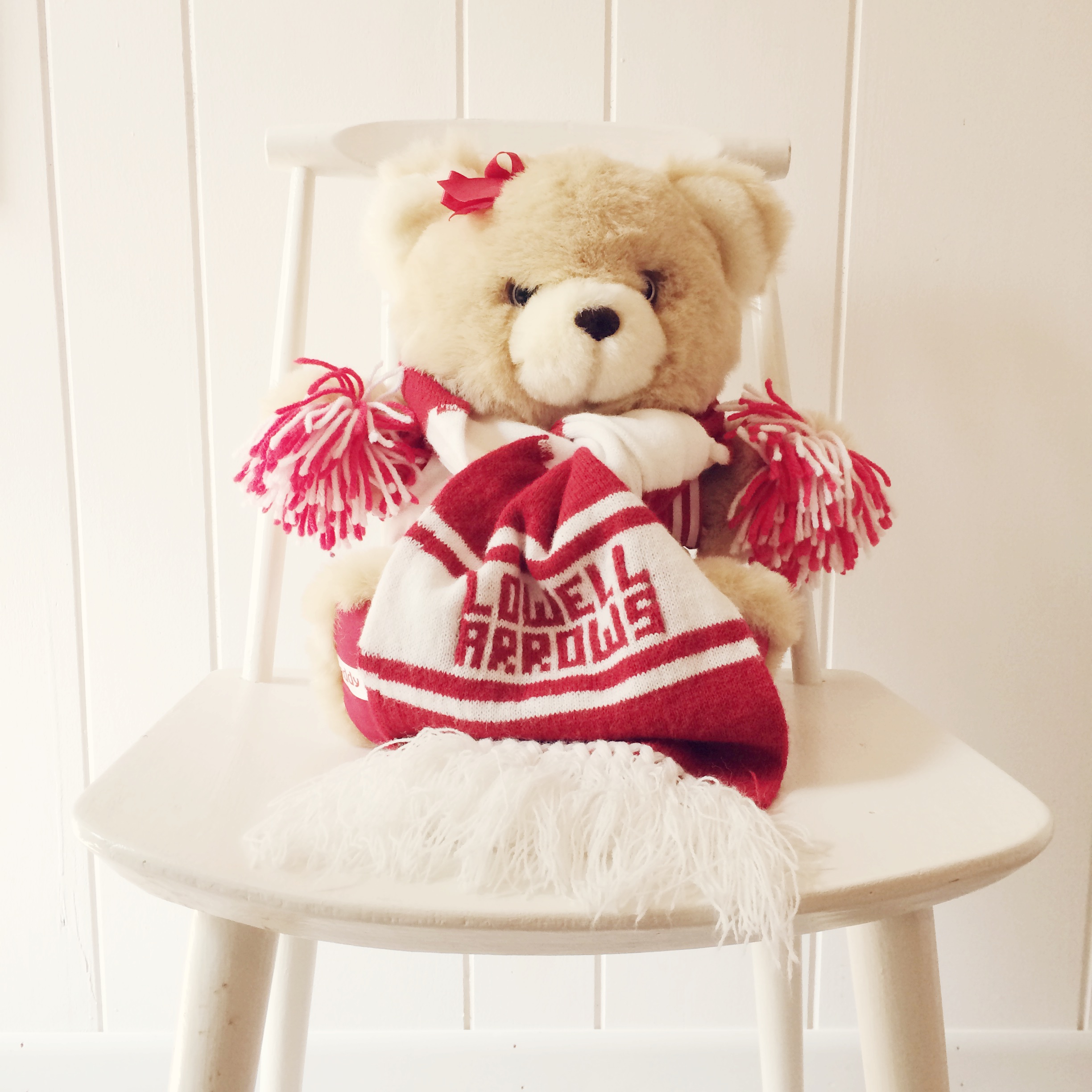 when my parents bought the lakehouse back in 1998, it was a mess. they've slowly renovated the entire space, room by room over the years, and it's turned into quite the cozy retreat. one thing that hasn't changed much is my bedroom. it's a tiny room in the front of the house, overlooking the lake. (also, the best view of any bedroom in the house!) after we purchased the house, my mom quickly "decorated" it with a floral bed-set/ wallpaper border combo in a lovely shade of forest green and dark blue. very 90's. the original mis-matched fixtures stayed—a transparent mint green art deco sconce and horrible black and wood paneled track lighting were the only sources of light in this tiny room, aside from the daylight shining though the original lace curtains thumb-tacked to the window molding. add a flowery forest green daybed and some more accessories of the same color, and this is the way the room stayed. for 15 years. it wasn't even painted properly, just a coat of primer slathered on to cover the imperfections. i guess i never thought much of it, really only going up there maybe once a year during the summer.
but over the past year or so, i've taken more time out during the summer to go back to michigan and enjoy long weekends at the lake. i decided over this past memorial day weekend that it was going to be my summer project to completely remodel my lakehouse bedroom. i am 33 years old, dammit. i should not still have my cheerleader teddy bear from high school still sitting on the (all forest green) bed.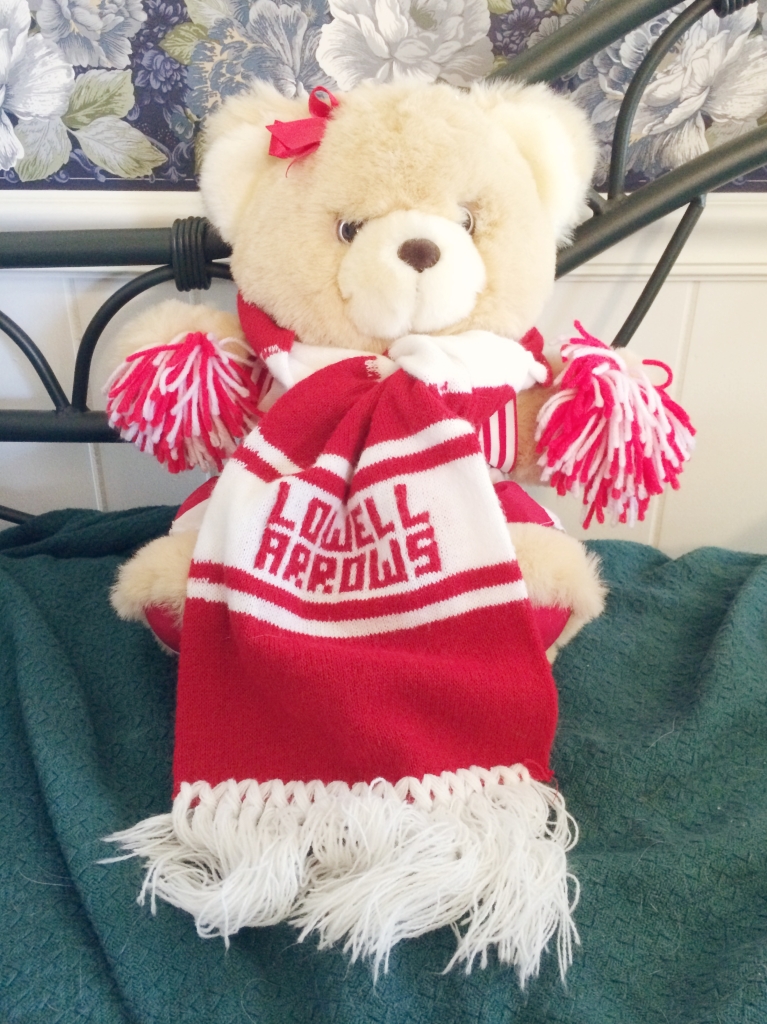 this room is a tiny 13 feet by 7 feet, and very hard to capture a decent before shot without the lovely iphone panoramic feature. also, this room has been used as the "collect all the junk" room for quite some time, so i apologize for all the random stuff in these photos. (i may have gotten a little excited and started ripping off wallpaper before taking these.)
ok, so it's time to grow up.
i want to keep in the "cottage style" but bring in my personality. soft white walls, airy linen window treatments, a modern daybed, and vintage accents.
the inspiration:
i would've loved to remove the chair molding and wallpaper border completely and just have the paneling like in the photo above, but unfortunately, the grooves have been filled in that area between the molding, and aside from ripping out everything or continue to fill in the rest of it, there's not a whole lot i can do. so i am going to make it work by replacing the flowered border with paintable textured wallpaper and paint everything a soft white.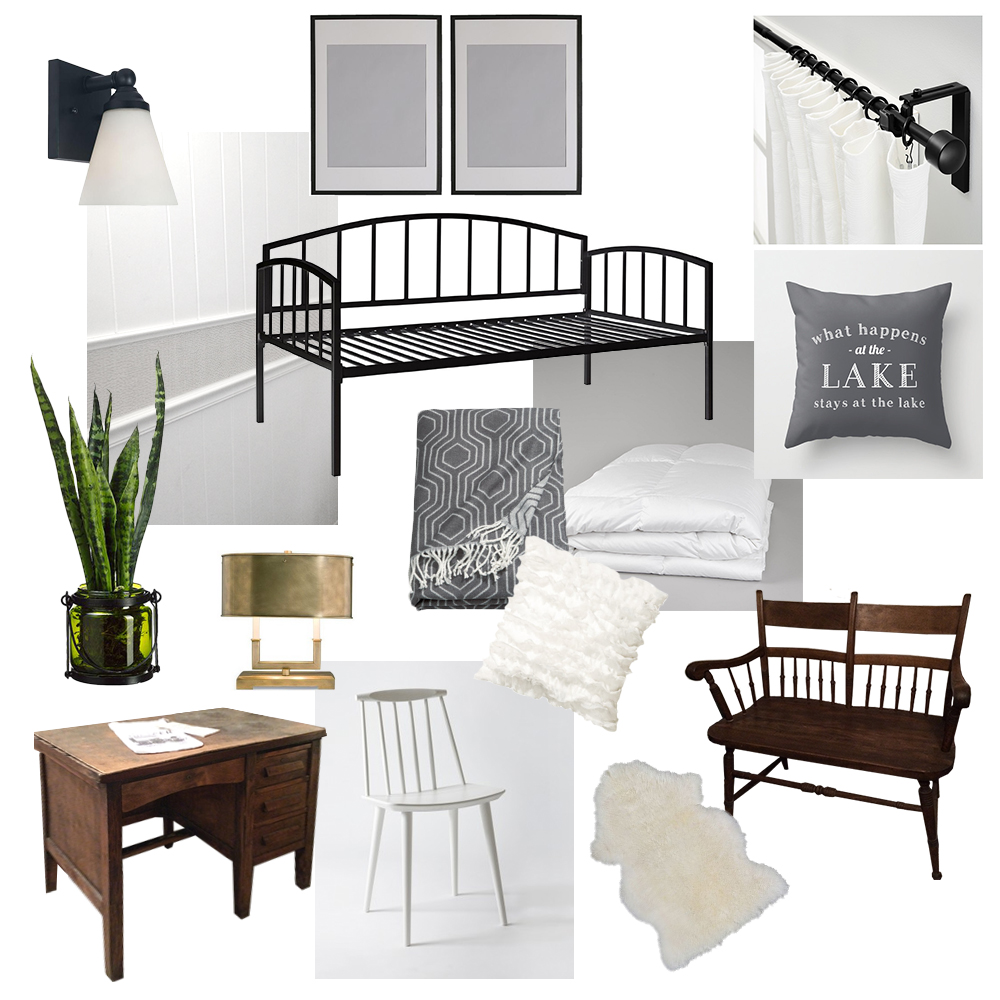 as i am doing this whole renovation on a budget, i am reusing as much as possible from what i already own, and will be thrifting all the accessories and artwork.
the vintage desk is a piece i found over the memorial day weekend, literally buried in the back room of an antique mall in newaygo, michigan. get this… for only $38! and it came with about 18 free spiders! the patina is beautiful and matches the deacon bench in that perfect extremely-old-but-awesome way. after some research, i found the exact desk. turns out it's from the 20s and is selling for almost $500 online. eek! i'm perfectly happy with my $38, thank you.
the white hay j77 chair is a lucky thrift store find. $7
the flannery brass accent lamp was a clearance item from the thomasville furniture store picked up by my mom – originally retailed for $259
i already have a down comforter that will be used in this room. just need to find the perfect duvet! most likely something like this, but i don't want to commit just yet.
here is the breakdown on what is left to acquire:
total: $364.01
so, there you have it! easy, right? now i just need to find the time, put in the vacation days to get it all finished, and figure out what to do with cheerleader bear.